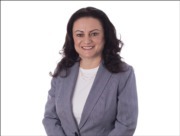 My main focus is customer satisfaction, but I also pride myself on being acutely aware of details. I'm bilingual and fluent in Bosnian and Serbo-Croatian language. I use my world travel to my advantage when dealing with out of town buyers. I graduated from Brenau University in 2005, worked in a retail garden center, worked as a Probation Officer, and substance abuse counselor since I've moved to USA from Bosnia and Herzegovina in 1995. Knowing the difficulty of finding a home in a new city, I take the time to patiently get customers from point A to point B while making the transaction as smooth and easy as possible. 
Testimonials
Sanela is an amazing realtor. She is professional and easy to work with. She work around our busy schedules and was nothing but professional. As first time home buyers, we did not know anything about the home buying procedures. Sanela explained everything to us and answered any questions we had along the way.
Noah Werner
Sanela embodied everything I could have wanted in a realtor. She is very down to earth, has great communication, and was very responsive to every single question I had. As a first time home buyer, I needed someone who was patient, understanding, knowledgeable, and dedicated to making sure my experience was positive. I never felt alone and truly had someone who worked hard for me. I would definitely recommend Sanela and would definitely use her again.
Charena
I live outside the state of Georgia. I had 2 parcels of land to sell in Georgia. I researched the top-rated real estate companies in the Augusta, Georgia area. Better Home and Gardens had the best reviews. I gave them a call. Agent Sanela Visic -Masles responded to the call. I provided her with all the pertinent information on the property. We agreed upon a sale price and the property was listed with Better Home and Gardens in February, 2021. She kept me informed on the status of the sale in the form of text, email, and or telephone calls. I was delighted in May, 2021, when she said she had a potential buyer. The buyer made a cash offer. I accepted the offer. The sale was closed the end of May, 2021. I have been extremely pleased with the professionalism Sanela demonstrated throughout this process. I strongly recommend Agent Sanela Visic -Masles to handle your real estate needs.
Betty Barr
After a few less than stellar experiences, we were reluctant to work with another area agent, but Sanela quickly disabused us of our misgivings. From our initial contact, she was the consummate professional in assessing, prepping, listing and selling our home. Because of her excellent grasp of the local market, she was able to explain her process and estimated timeline that played out almost exactly to plan. We live out of state so it was greatly appreciated that Sanela was always prompt and thorough in communicating with us and even helped coordinate necessary repairs and enhancements. She never pressured us and there was never a doubt that she was looking out for our best interest above all else. In the end, she got us top dollar for our home, helped us navigate impending obstacles, and got us to closing in record time.
Susan and John Allen